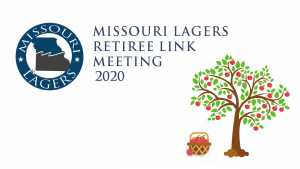 Virtual Retiree Link Meeting
July 14 @ 9:00am – 11:00pm
Interact with leaders and experts from your LAGERS retirement system. Hear an update on LAGERS' finances, investment performance, funding, and legislation. Then, LAGERS' chief counsel will provide you with a basic overview of estate planning.
In order to keep our retirees safe and healthy, we have chosen to host a Virtual Retiree Link Meeting instead of our regular regional in-person meetings. We hope you are able to join us online.
Please keep in mind this is an online event, so there are some technology requirements: a computer with speakers (Mobile phones are compatible as well); stable internet connection; and you may have to download the GoToWebinar app or software prior to the meeting. Once you register, you will receive an email with instructions on how to join the meeting. When logging in to the webinar, if you have any technical difficulties, call 1-800-447-4334 Ext. 6260
Contact Penny Thomas at (573) 632-6350 or pthomas@molagers.org for more information.
Pre-Retirement Seminar – Poplar Bluff
July 22 @ 1:30pm – 5:00pm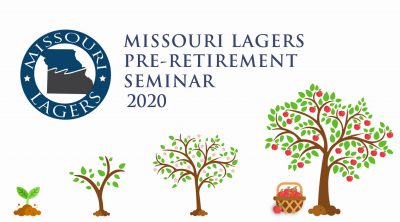 In this Pre-Retirement Seminar, we will cover topics such as how your benefit is calculated, the retirement application process, payment options, taxes, COLAs, and other after retirement topics. This Seminar is open to all LAGERS members wanting to know more about the retirement process. LAGERS will present first, and we will have a Social Security representative speak and answer questions for the remainder of the seminar. If you are interested in attending this seminar, we ask that you register so we can prepare your benefit estimate before the event.
Contact Penny Thomas at (573) 632-6350 or pthomas@molagers.org for more information.
LAGERS is seeking legislation to further enhance the flexibility of the retirement system. Currently under law, a member employer has many options to tailor a retirement benefit that will meet the goals and needs of its unique workforce. The options for employer election range from the benefit multiplier, final average salary, retirement ages, and employee contributions.
Read More