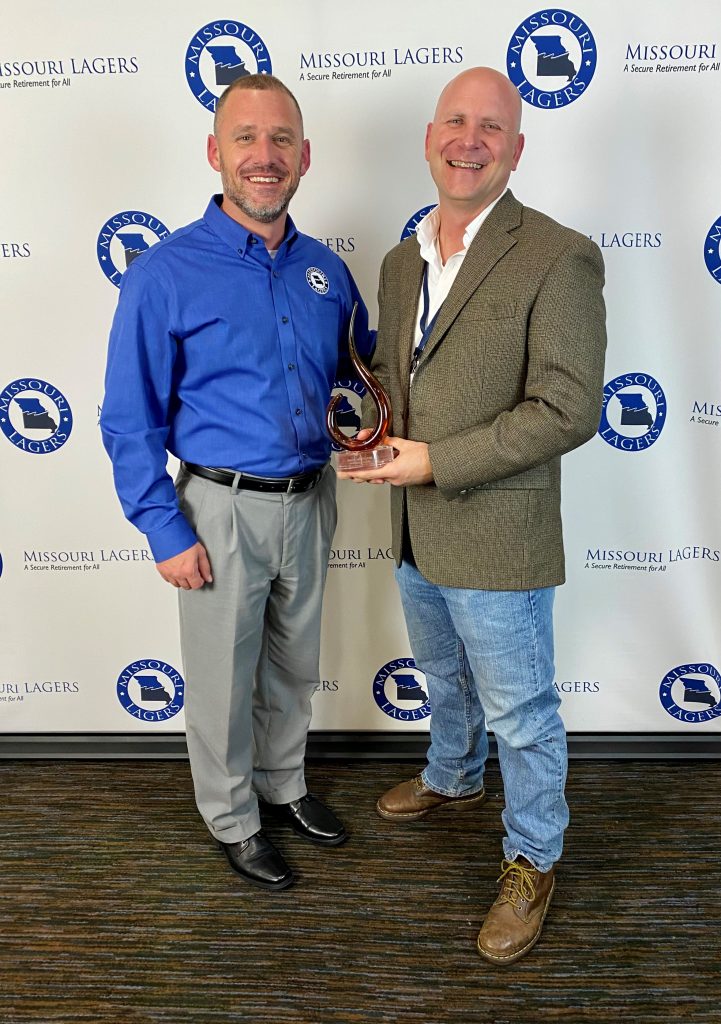 Jamey McVicker has been named LAGERS 2023 Local Government Hero Award Winner. The announcement was made during the system's Annual Meeting, held in Maryland Heights on October 26, 2023.
The award, which seeks to celebrate the outstanding contributions of the state's local public workforce, is annually bestowed upon a LAGERS member who has acted above and beyond their call of duty to enhance their workplace, their community, and their profession.
Jamey was selected for this year's award for his outstanding contributions and leadership within the St. Joseph Fire Department, as well as his off-duty efforts in his community through the Aiden McVicker Charitable Foundation.
Jamey tells LAGERS that he counts himself lucky to have a career he loves, sharing he has a passion for helping people find the "best part of" in what is often the worst day of a person's life. His coworkers share that he always shows up with a positive attitude and strives in everything he does to leave everything around him just a little bit better than when he found it. As Jamey has moved up the ranks over his past 24 years with the St. Joseph Fire Department, he continuously strives to find new ways to positively impact the people he serves.
In his new role as assistant fire chief, Jamey undertook the development and implementation of a new Wellness-Fitness Initiative (WFI). Recognizing that members of his department were being impacted by issues such as service-related cancer, mental health, and duty-related injuries, he took it upon himself to develop a program that would improve the overall well-being of the St. Joseph Fire Department. Jamey adds, "If our firefighters are healthy, they are more engaged and better able to serve their community."
As part of the WFI, St. Joseph firefighters have received access to new vaccination clinics, preventative health screenings, a private health and fitness website, nutritional plans, cancer prevention procedures aimed at reducing exposure to carcinogens, new cleansing soaps and wipes for post-fire cleaning of equipment, improved ventilation systems, peers support groups of mental health, and so much more. Although the program is still fairly new, Jamey is excited to see the impacts for the city on injury claims, sick-time use, medical insurance rates, numerous health statistics, and perhaps most importantly, company morale and job performance for the citizens of St. Joseph.
Although Jamey's accomplishments at work are numerous, one of his most proud accomplishments comes from his off-duty endeavors. Jamey and his wife, Amy, are actively involved in a charity in honor of their son Aiden. The Aiden McViker Charitable Fund aims to assist children with special needs, through a variety of community-support mechanisms. Since the charity's founding in 2008, it has raised more than $200,000 to support projects in and around the St. Joseph Community, such as handicap-accessible playgrounds, funds to meet individual families' medical needs, a power chair for a child in need, as well as scholarships for graduating seniors seeking a degree in a field to benefit children with special needs.
Jamey shares that he believes the foundation's mission of Courage, Love, and Vision has helped create a purpose for his family and so many others in the St. Joseph community. Jamey simply adds, "We want to help others, and if that's Aiden's purpose, what better purpose is there?"
For more information about the Aiden McVicker Foundation, visit their website: www.aidenmcvicker.com