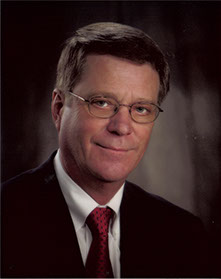 Jefferson City, MO – The Missouri Local Government Employees Retirement System (LAGERS) has announced plans to name their office building at 701 W. Main Street in Jefferson City as the Missouri Local Government Employees Retirement System, William R. Schwartz Building in honor of former long-time Executive Director, William (Bill) Schwartz.
Missouri LAGERS was created in 1967 through a partnership with the Missouri Municipal League to help local government employers attract and retain quality public workers within Missouri's communities through its' retirement, survivor, and disability programs. Schwartz joined the young system in 1974 as the assistant executive director, a position he held until he became executive director in 1978. As director, he led the system for over 32 years. At the time of his retirement in 2011, Schwartz held the honor of being the second longest serving retirement system director in the nation. Mr. Schwartz passed away in 2015.
Mr. Schwartz is responsible for growing Missouri LAGERS from its infancy into one of the most successful public retirement funds nationwide. Today the system serves over 830 local government employers covering nearly 70,000 members. In addition to his leadership at LAGERS, Bill served in many other statewide and national leadership roles including for the Missouri Association of Public Employee Retirement Systems (MAPERS), the Missouri Society of Association Executives (MSAE), the National Association of State Retirement Administrators (NASRA), and the Government Financial Officers Association (GFOA). He also authored numerous manuals on public pension accounting.
"Bill was a true legend, not just here at LAGERS, but throughout the entire retirement industry," says current Executive Director Robert Wilson. "He was a leader, a mentor, and a friend to everyone he worked with. LAGERS would not be what it is today if it were not for Bill's steady guidance and unwavering leadership. His commitment to building a premier retirement system is a legacy that will continue to live on for many generations to come."
A private naming ceremony for family and friends will be held on Saturday June 18, 2022. The building will stand as a reminder of Schwartz's significant contributions and commitment to the system and the thousands of local government workers it serves.