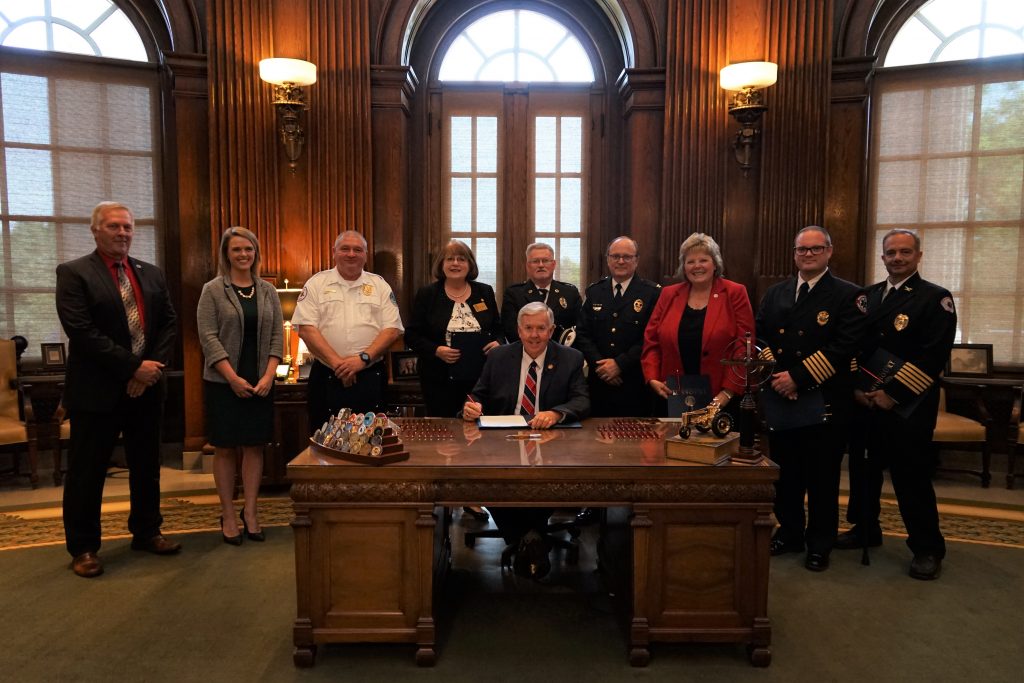 Jefferson City, MO – Governor Parson has signed LAGERS' public safety expansion bill, Senate Bill 655, meaning that soon all LAGERS employers will have the option to classify their EMS, Jailer, and Emergency Telecommunicators as public safety personnel in LAGERS.
"We are pleased to have the Governor sign this important legislation into law today," says LAGERS Executive Director, Robert Wilson. "This will provide another tool for our local government employers to attract and retain critical public safety personnel into our communities across the state."
LAGERS was joined at the State Capitol by bill sponsor Senator Sandy Crawford and House handler, Representative Patricia Pike, along with representatives from Missouri's public safety associations for the bill signing. During the signing, Senate Crawford noted, "This bill has a special place in my heart because it helps public safety personnel in our state" with Representative Pike adding, "we thank you for supporting the brave men and women who are such advocates for [all] of us."
LAGERS Public Safety provision has previously only been available to employers residing in third class counties. With the signing of SB 655, all employers in LAGERS will be able to utilize the option. The law will go into effect on August 28, 2022, after which employers in 1st, 2nd, and 4th class counties may elect the provision.
Click here to learn more about the process of adding a public safety department in LAGERS.