The main purpose of your LAGERS benefit is to provide a steady stream of income during your years in retirement. Knowing what your LAGERS benefit will be, even if it's not a lot, can help tremendously when you are trying to solve the retirement puzzle.
If you haven't received it already, a member annual statement will be mailed to you that shows information vital to retirement planning. Want to know what your benefit will be if you quit today? It's there. How about if you continue to work until your normal retirement age? That's there too.
Your LAGERS benefit provides guaranteed income which is a foundation for all of your other financial plans. Combined with Social Security, personal savings and investments, your LAGERS benefit helps you achieve financial independence when you decide to stop working.
Your annual statement is a great way to assist in your financial planning, but LAGERS has something even better: myLAGERS. The annual statement shows what you have earned to date and what you could potentially earn if you keep working. But what if you want to retire early or work longer? What about choosing a payout option that provides for a spouse or someone else? With myLAGERS access, you can create customized benefit estimates, showing all available payment options with just a few clicks!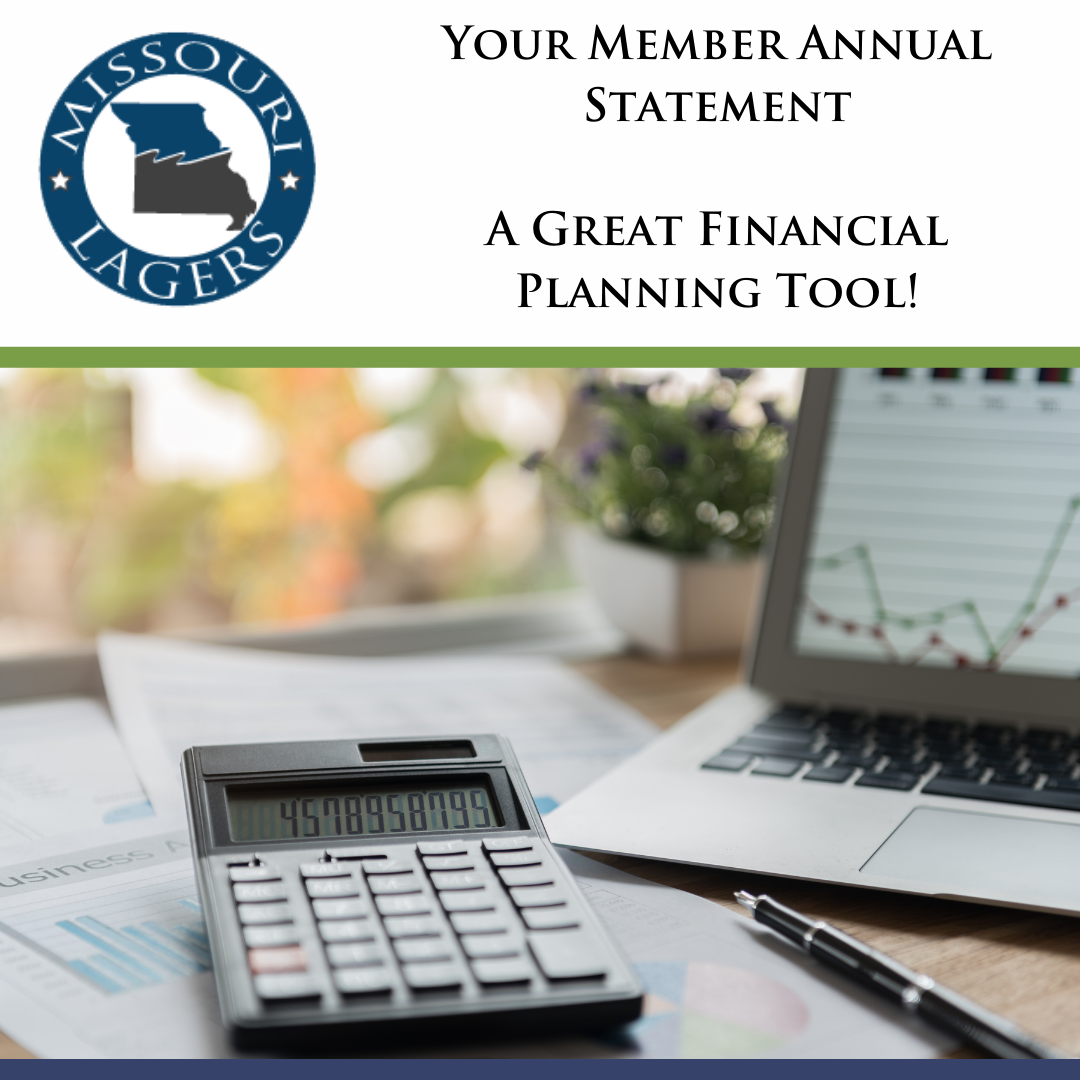 Below are some helpful hints to help you review your annual statement.
"What You've Earned as of 12-31-2020" Section
Your statement is as of 12-31-2020. Any changes to your account since then will not be reflected on this year's statement.
Benefit amount does not include any temporary benefit (for LT programs) if you are not yet age eligible to retire.
The

Final Average Salary

used is your current last 36/60 month average of wages.
If you are not yet

vested

, your statement will only include projected benefit amounts.
"What You Could Earn if Your Keep Working" Section
Service is extended to your normal (or

Rule of 80

) retirement age.
If you are already retirement age, you will not see this section.
The "projected benefit" on your statement is not the same as a benefit estimate. Benefit estimates include much greater detail regarding all of your payment options and are based on a retirement date specified by you. Try the benefit estimator on

myLAGERS

to get more in-depth with your planning.
"Your LAGERS Account Balance"
This amount does not represent your benefit amount.
Included is your

member contributions

(if any) from all employers,

service purchases

, and interest earnings.
You will see "$0.00" if you have not made contributions to LAGERS because your employer(s) has elected to make

all necessary contributions

or if you previously made contributions but they were refunded to you.
Most of us will only get one shot at retirement. Utilizing the tools you have available to you will help you create the future life you deserve!