LAGERS recently received results from a benchmarking survey conducted by an independent third party. The survey compares LAGERS member service and administrative cost levels compared to peers in the public pension industry. Results show that LAGERS provides above-average service to our members at below-average administrative costs, compared to our peers.
LAGERS' Member Service Score is Above Peer Average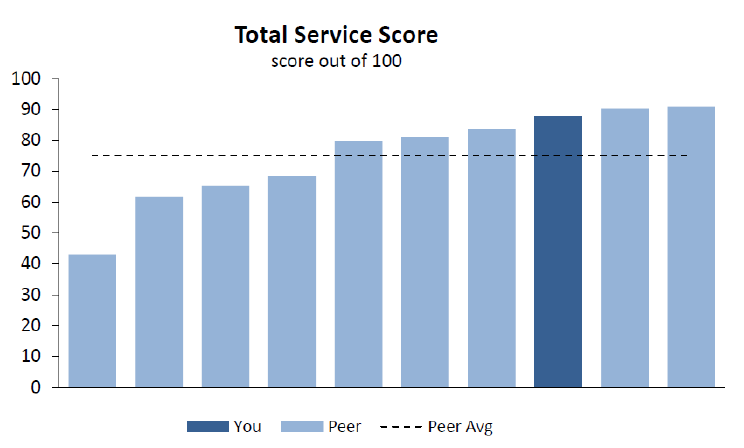 The survey writers define service as "anything a member would like, before considering costs. Generally speaking, this means faster is better, and more services and more availability is better." LAGERS' total service score is 88 out of 100, compared to the peer average of 75 out of 100. The total service score is the weighted average of scoring twelve activities. LAGERS scored above or equal to the peer average in eleven of the twelve of the activities measured. Activity scores where LAGERS clearly stands out above our peers are pension inceptions (how quickly pension payments begin), member contacts, website, news & targeted communications, disability services, and minimal red tape.
LAGERS Administrative Cost Per Member is Below the Peer Average
Providing great service to members while being mindful of expenses is always a balancing act. An above-average total service score could signal above-average administrative costs as well. This is not the case for LAGERS, according to the survey. LAGERS' annual administrative cost per member is $107, which is significantly lower than the peer average of $186. The primary reason for this difference, according to the survey, is LAGERS employs 53% less full-time staff than our peers. Our system has 4.7 full-time administrative employees per 10,000 members compared to our peer average of 10.0.
Goals of the Benchmarking Survey
LAGERS periodically employs an independent third party to provide peer comparison data. This comparison helps LAGERS measure and manage our system's performance compared to our peers, identify what is important, and monitor progress using an independent benchmark. The results of the survey show us what our peers are doing that we are not and help us gain insights on best practices in key areas of LAGERS' operations. LAGERS then uses this data to determine where we can improve services to our members. LAGERS remains committed to providing superior service to our members in the most efficient ways possible.